A collaborative participation/performance and installation in the ex-hospital. We have a waiting room that is all white.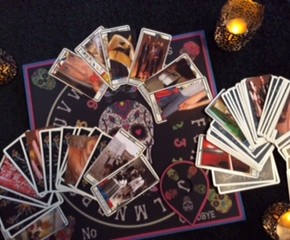 I will be doing reading during the fair, 2-5 November,  using a new and updated tarot cards that I have created for this performance.  All 78 images are from my photographs.
The white cube will have two large b&w photographs by Roberta Marroquin. The floor will be covered with 10,000 red silk rose pedals. The table will have a long black table cloth and the room will be filled with flicking candles.
The Ouija board will be available for anyone to use.
Previously, 2015, we used a prison cell in the old prison.