Participation performance: The first performance will be October 1, 2017 in  the Research Pavilion at the Venice Biennale. Curated by Jeanette Doyle.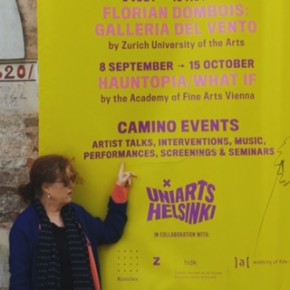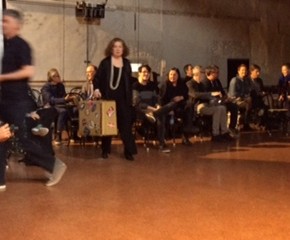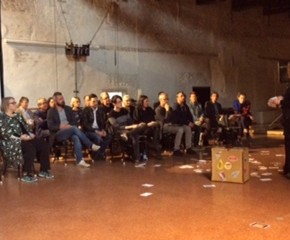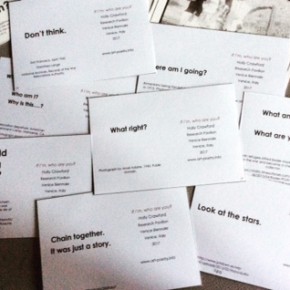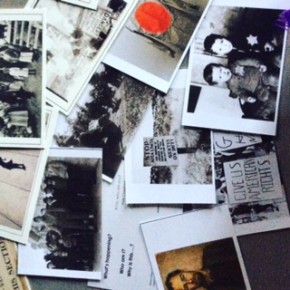 If I'm me, who are You?  Oh, so sorry.  Why should anything happen, to me.
Holly Crawford
Issues of "otherness," identity, denial and history
Time: Approximately 20 minutes
Performance:
I'll walk around the space, a dimly lighted space, with an old suitcase with high end travel stickers. I'll be well dressed wearing costume diamond and pearl jewelry.   Maybe I'll sip some champagne. The cards, postcard size, has text one side and images on the front. There will be approximately 80 cards. I'll look at them and say the text. I will then drop the cards on the floor, toss them or hand them to people.  During the performance, I will drop some of the jewelry.  (I handed out slips with the title and asked the audience to say that any time, softly, during my performance.   Their card will say: (1) If I'm me, who are you?, (2)  Why should anything happen, to me, or(3) Oh, so sorry.)
Material and sources:
The images are from photographs and objects that are in the public domain and under CC.  The places and events represented on the cards from things that we try to push to the back of our minds. A history that some deny.  A history that many want to forget. A history that others say is the past. It's not. 
The images are of fragments of laws, such as the governmental law that removed the Native Americans from lands east of the Mississippi in 1830, the Treaty of Gaudalupe Haldigo Treaty that took the west from Mexico, photographs by Ansel Adams of Japanese Internment camps, Concentration camps, Armenian Holocaust, American segregation poster removed by my grandmother from a train car in Baltimore, and the wall encircling the Palestinians and other images. 
 Most of the text is based on the story of Austrian art Paul Cohen-Portheim who wrote about his experience in a British internment camp during WWI which was part of my research on enemy aliens. ( I discovered I  had a great-grandfather who also was caught up by being in the wrong place at the wrong time also during WWI. No one needed a passport until 1914 to travel. He was on holiday and trying to return to the US when the war broke out. Medals were made, by the internees, to commemorate their stay. I inherited a medal.  I gave an academic paper on this unknown history in April in Paris.)
Who I'm I?  My ancestors are Mennonite,  a McIntyre, Jews and 'Mulatto.' The Mennonites were persecuted in Basel, convicted imprisoned and moved to southern Germany, but were only allowed to farm.  I have a McIntyre who was born in NY in 1806.  Their lands were taken and told to live by the English. I have Jews that decided to be secular and great-grandmother who was listed a mulatto, an Anderson, from Virginia, whose family crossed the color line after the Civil War. These are just the ones I know about.