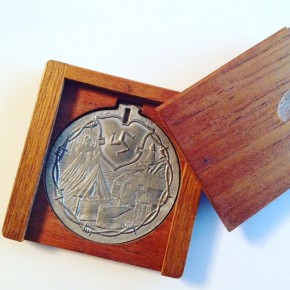 Paper research and delivered on this medal and others that were created and made by internees in British internment camps during the first part of WW1 on the Isle of Man. Douglas Camp was the first camp. It was a holiday camp on the Isle of Man.
Paper:"Anxious Object: Enemy Alien Medals from British WW 1 Internment Camps," Art Du Puissant, Objet Multiple: Medailles et Jetons en Europe, De La Renaissance A La Premiere Guerre Mondiale, Colloque International, INHA, Paris 2017.
I was told that my research on these medals was completely new.
I have written two performances based on my research on enemy aliens then and now.