Christian Parra-Dubalde, "Holly Crawford, The Transcendence of the Ephemera" Arte, Levante, February 4, 2005, page6.
As a felicitous result of the collaborative arrangements that the C. Sevilla showroom maintains with New York galleries and artistic circles, the artist Holly Crawford has arrived at Color Elefante as part of a European tour; after Florence, Berlin and Valencia, the exhibit returns to New York. Her unique show, even during its brief stay, transcends sculptural traditions to place itself in new terrain, subject to open interpretation. Crawford conceived the work to be destroyed by the spectators, who are thereby transformed into crucial participants.
Crawford's pieces consist of black latex balloons (identified by the artist as blackbirds suspended across the sky) that take, in each piece, different circular & tubular forms, much like clusters of fruit or loose associations which one can read in an organic way. In their darkness, in the cloaked mystery of shadow, these forms aspire to an ultimate spatial expansion that is the harbinger of change. Due to the fragility or durability of the material utilized, they are prepared for their physical interaction with human nature and environmental conditions of wind and heat. It is sculpture, then, which draws the viewer deep into the piece, and which casts light on both the natural structural mutations of, and humankind's incursion into, the natural world.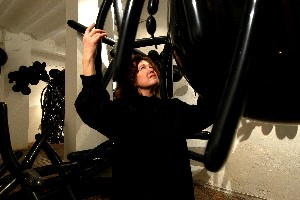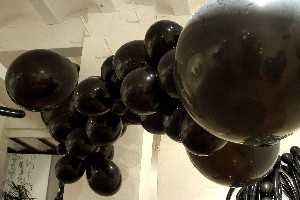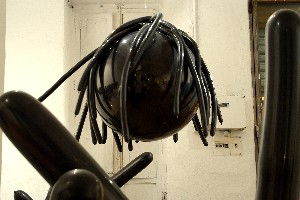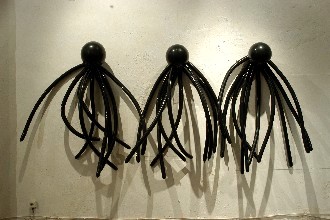 Crawford's work absolves itself of the pretensions of a medium which consistently yearns to immortalize itself, and, as in a declaration of intent or ars poetica, recaptures the fount of the creative spirit, which is, by necessity, more tied to the expressive needs of the soul than to social recognition or admiration. This is an archetypical example of an attitude not necessarily appreciated by market forces; it is lucid, beyond the confusion associated with envy-engendering ignorance, and inclusive of broader definitions of art. This show channels an artist's honesty into a display of reverence for the most elemental processes of nature, acknowledging them as the centerpiece of the entire human creative experience. And that, beyond notable, is admirable for its courage and conviction.