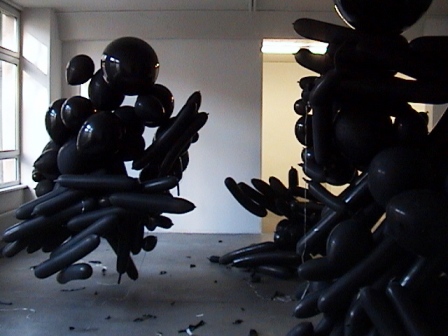 "Thirteen Ways of Looking at a Blackbird' is a way of declaring that no blackbird exists and that instead there are only varieties of imaginary perspective that may bring blackbirds into being." Harold Rosenberg, The Anxious Object
Dali once quipped, "that the least one can ask of a piece of sculpture is not to move…."
"Things fall apart. Get used to it." Yeats
Creation, connections, time and change, impermanence, indeterminacy, the ordinary.
Each installation is unique. I construct the temporary sculpture on site from black latex balloons. They evolve and are always popped at the end. Sometimes they the forms are popped and new forms created during the entire installation. It varies.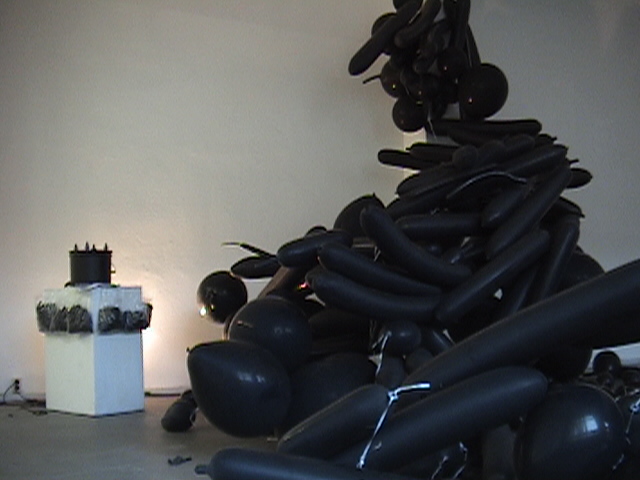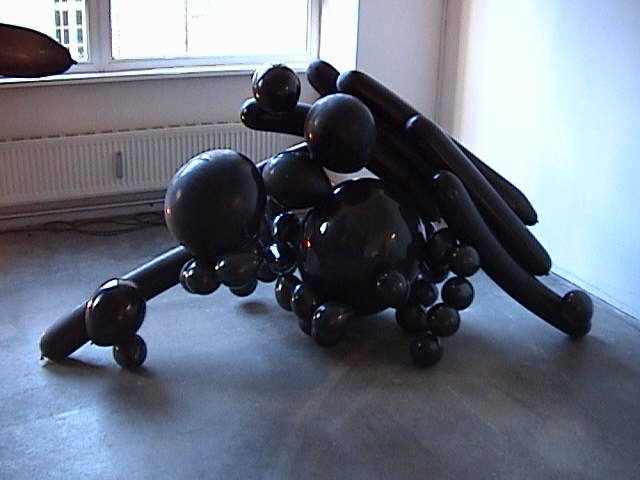 Installaton photographs and selected review
Review by Tara Dennard, " Holly Crawford: Bursting New Bubbles," NY Arts, Nov-December, 2004. (Posted at: www.nyartsmagazine.com/articles.php)
"In Holly Crawford's site-specific installation and performance, Thirteen Ways of Looking at a Blackbird, black latex balloons of different shape, size and volume, fill the gallery space–floating below the ceiling, piled together on the floor, hovering in mid air. First installed in Florence, Italy, in 2002, a new incarnation of the original project is now on view at the Berliner Kunst Gallery. Crawford likens her continually changing work to the human experience: it is an on-going process of evolution, which is subject to imperfection and affected by chance. Though the project's initial effect is in the power of its visual contrasts and spectacle, the impact lasts and deepens due to the work's breadth of implied and interpretive value.
The title of installation refers to the poem by Wallace Stevens from 1917 that shares its name. Steven's poem raises the question about the reliability of our own sensory information. In an entirely different medium, Crawford, who is also a poet, has created a referential construct to the poem. Crawford provides a range of stimuli through the recurrent transformations of the work, permitting only temporary images of what may be imagined as the "blackbird."

13 Ways…Berlin… One of the 5 final forms that filled the room before the pop!

New installation/sculpture after the pop
As time passes, the balloons begin to reveal the effects of time and of their environment. The impermanence of this medium appeals to Crawford; it reveals her feelings about the transience of life. Has Crawford created a memento mori from an object traditionally associated with children's birthday parties?
The artist's desire for active viewer participation is integral to the work, and is reminiscent of Cuban-born artist, Felix González-Torres' invitation for the gallery-goer to interact with his stacks and heaps. Here, however, the viewers are encouraged to go one step further and aid in the process of creation, to inflate and add new balloons to the existing ones, as well as take some home. This work challenges the boundaries of creator vs. spectator, artist vs. public. A total of 4,450 balloons and an air generator will be made available throughout the month of September and the artist has set several dates for group participation. Crawford will continually arrange and re-arrange the work throughout the show, which will end with a de-installation, a popping event, at the end of September."
Black Onyx Mixed, early arrangement