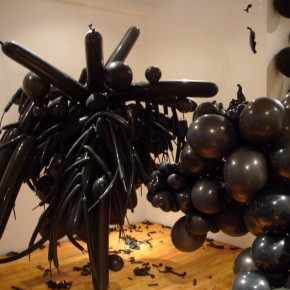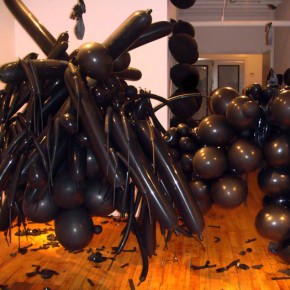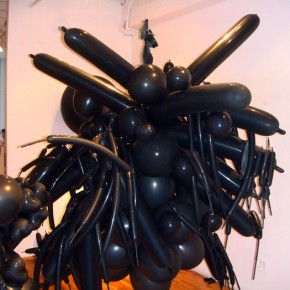 " '13 Ways of Looking at a Blackbird' is a way of declaring that no blackbird exists and that instead there are only varieties of imaginary perspective that may bring blackbirds into being." Harold Rosenburg, The Anxious Object

Dali once quipped, "that the least one can ask of a piece of sculpture is not to move…."

"Things fall apart." Yeats

Creation and destruction, time and change, impermanence, indeterminacy, the ordinary. Latex is natural renewable material. It is the sap from a rubber tree. The balloons are made in the United States and Canada. A latex balloon will break down quickly with light and water, about the same as a banana.
The story:
Florence, Italy; Berlin, Germany; Valencia, Spain; London, UK; NYC, Riverside, CA; Puerto Varas, Chile.
Where in the world will #9, #10, #11, #12 & #13 be?
Everything fits in a small soft black suitcase. It contains a small inflator (110 or 220) and the black balloons. The suitcase has never been misplaced. Thank you: Air France, LAN, Alitalia and American Airlines.
The Germans did charge me duty, $100, when I shipped the larger inflator and balloons to Berlin for my second installation. Nothing is ever sold. I shipped my inflator back. They never returned my money. I did ask. I'm thinking of leaving it to them, the German government, in my will. If I sent it to the Embassy, in DC, they probably think it was a bomb and plow it up. Problems, problems, problems. Art is the art of creative problem solving.
Thousands of balloons: I have 3,500, black balloons that I will mass into temporary sculpture, a whole environment. And when it's over, and in some places in the middle, it's all popped and the process starts over again. In each place more than a thousand have been used.
Facts and Statistics:
The first time I used handled pump inflators. They melted. A tire pump was re-configured from the U.S. Consulate's garage, thank you, to finish the installation. The installations take three days. The one expectation was London. I used helium and the help of two people. Space is open during process that is ongoing. Project was up in London for 24 hours for six weeks at the Riverside Art Museum. Every time is a little different.
The instructions for one constructed shape are available for any collector.
Holly Crawford is an international neo-conceptual artist. More: www.art-poetry.info & h.c@earthlink.net
Documentation of each of the spaces in the first ten years is now a printed book that is available on Amazon and during the exhibition.
I would like to thank the Pinetree Group for their support for installation #8.