New book, project, edited by me. I asked many artists, curators, collectors, critics, editors and publishers of art magazines, docents, art history professors, art dealers, art lawyers and other in the field of art to tell me about their art week. I did not share who was in the book and the submissions.
The book is printed in black pages with white text. It also a good read.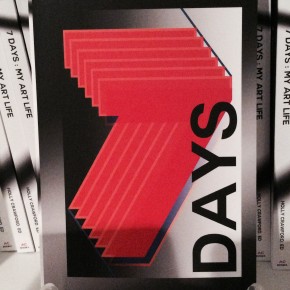 The contributors: Doug Harvey, Anne McKeown, Tracey Snelling, Dee Hibbert Jones,  Fernando Galen, John Murchie,  Peter Frank, Eric Booth,  Nancy Lippe, Daria Hollowell, Molly Haslund, Linnea West,  Ischa Tallieu,  Brian Curtin, Cristin McKnight Sethi, Claude Closky, Lane Cooper, Peter Frankhauser, Raul Zamudio,  Seph Rodney, Terry Berne, Stephanie JeanJean, Martha Wilson, Orlan, David Raymond, Ann-Marie Lequesne, Mary Valverde, Jonathon Keats, Irina Tarsis and Edward Winkleman.
This book is distributed by RAM. Ask a museum bookstore and you college bookstore to order it.